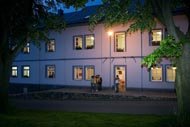 About us
The Center Stone offers accommodation, you can enjoy the view of the Jeseníky Mountains. Our accommodation is in many rooms, these rooms are in different price categories. We have 2-bed rooms, 3-bed rooms, 4-bed rooms, we also have an apartment. We have modern and comfortably furnished rooms with a fully equipped en-suite bathroom. A ski and bicycle storage room is available.
Our hotel is conveniently located in the upper part of Vrbno pod Pradědem. Karlova Studánka Spa or Jeseník Spa are about 23 km away.
Accommodation types: bed and breakfast, half board. Restaurant: air-conditioned, capacity: 60 seats, open: 11:00 AM - 10:00 PM. The menu is very varied (ready meals, snacks, meatless dishes, daily menu of fresh salads).
The indoor swimming pool in Karlova Studánka is about 7 km away.
Read more
Scroll up